GITA's creative and dynamic professional team strives to make your travel experience a memorable one! Our objective is not only to provide you with a hassle free trip but also to dazzle you with our rich heritage.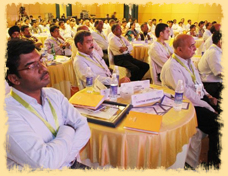 Our core team has an experience of over 15 years in promoting India and its subcontinent and due to vast knowledge, we have manage to design each and every trip in such a way that it adds value to the money spent.
Apart from leisure tours, we also have expertise in MICE as well. One wonders why India for MICE, to this we quote Mark Twain, "India is the cradle of the human race, the birthplace of human speech, the mother of history, the grandmother of legend and the great grandmother of tradition. Our most valuable and most instructive materials in the history of man are treasured up in India."
Amidst the countless ways that India can capture world attention as a tourist paradise, there also exists a dynamic business opportunity as a splendid venue for International conferences and conventions of no less than global standards.
What makes India different from any other destination is the myriad of experiences that it offers. It's a place that grows on you. This is one land where the ancient and the modern co-exist.
Our team at GITA would assist you in planning and implementing your event as below:

Detailed budgeting of the event
Print promotion if required.
Booking of accommodation and convention venues.
Organizing social and cultural programs
Special events and parties.
Sightseeing, excursions with pre – post conference tours.
Special interest and leisure activities.