Day 01: ARRIVE CALCUTTA
Meeting and assistance on arrival and transfer to hotel. Afternoon proceed for city tour of Calcutta.
The places of interest in Kolkata city are as diverse as its population. The city is the plinth for great architectural and constructional feats. These places presents a definite epoch, an important figure or faith, presents the historical account of the bygone days. The impressions embedded throughout the city are still fresh and not more than 300 years old. Unlike other places of attractions the city have not been gifted by any ruler or dynasty. The places of interest as such encompass diverse fields and faculties.
The places of interest in the city include parks and gardens, memorials, architectural structures, engineering feats, museums and other places associated with the lives of great reformists of the city. The prime attractions in Kolkata as such are Maidan, Fort William, Eden Gardens, Victoria Memorial, Saint Paul's Cathedral, Nakhoda Mosque, Marble Palace, Paresnath Jain Temple, Belur Math, Kali Temple, Botanical Gardens, Mother Teresa's homes, etc.
Overnight at Hotel.
Day 02: ARRIVE BHUBANESWAR FROM CALCUTTA.
Sightseeing in the afternoon
Morning in time transfer to airport to connect flight for Bhubaneswar. Meeting and assistance will be provided on arrival and transfer to hotel.
Afternoon proceed for Temple Tour of Bhubaneswar:
Bindusagar Lake
Lying to the north of the Lingaraja Temple, the Bindusagar Lake is one of the popular tourist attractions of Bhubaneswar. Infact, the lake has been gaining more and more popularity amongst the tourists as a picnic spot. More
Lingaraj Temple
Lingaraj temple is one of the most popular temples of Orissa. The temple is dedicated to Lord Shiva, also known as 'Lingaraj'. It is adorned with beautiful sculptures, which have been carved on the spire. Foreigners are not allowed to visit the Temple premises.
Mukteshwar Temple
Mukteshwar temple, one of the most prominent temples of Bhubaneswar, has been constructed in the style that is quite similar to the one used in the Kalinga School of Temple Architecture.

Rajarani Temple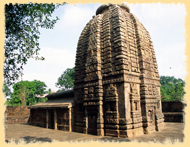 Rajarani temple is one of the most renowned temples in Bhubaneswar, the capital city of Orissa. It is made from the wonderful red and gold sandstone, which is locally known as Rajarani and this is what gives the temple its name of 'Raja Rani'.
Day 03: Bhubaneswar – Konark – Puri 120km- 3hrs
Drive to Puri , enroute Dhauli Ashokan rock edict of 2nd century B.C. ,Pipili the famous applique village & Sun temple at Konark. Visit this magnificent world heritage of 13th century which is a fine specimen of kalingan school of architecture. Temple is built like a chariot of 24 wheels & 7 horses.
The Sun Temple built in the thirteenth century was conveyed as a gigantic chariot of Sun God, with twelve pairs of exquisitely ornamented wheels pulled by seven pairs of horses. Majestic in conception, this Temple is indeed one of the most sublime monuments of India, famous as much for its imposing dimensions and faultless proportions as for the harmonious integration of of architectural grandeur with plastic allegiance. It is admittedly the best in Orissa. Its fine traceries and scroll work , the beautiful and natural cut of animal and human figures, all give it a superiority over other temples. The chief quality is its design and architectural details. The Sun temple belongs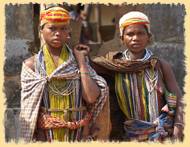 to the Kalinga School of Indian Temples with characteristic curvilinear towers mounted by Cupolas. In shape, the Temple did not make any major departure from other sikhara temples of Orissa. The main sanctum which (229 ft. high) was constructed alongwith the audience hall (128 ft. high) having elaborate external projections. The main sanctum which enshrined the presiding deity has fallen off. The Audience Hall survives in its entirely but of the other two viz the Dancing Hall(nata Mandir) and the Dining Hall (Bhoga-Mandap), only small portions have survived the vagaries of time. The Temple compound measures 857 ft. by 540 ft.
The alignment of the Sun Temple is on the east-west direction. The Temple is located in natural surroundings, abounding with casuarina plantations and other types of trees, wchich grow on sandy soil. The environment is by and large unspoiled. Gentle undulating topography around the Sun Temple lends some variation to the landscape
Later continue the driving through marine drive road to Puri.
Overnight at hotel.
Day 04: Puri – Chilka – Gopalpur 220km- 5hrs
Morning visit the famous Jagannath temple from outside as non hindus are not allowed to enter temple complex, feel the spiritual india at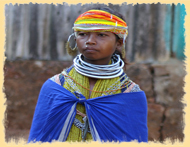 this place, continue the drive to gopalpur enroute folk painting village at Raghurajpur & chilika lake , the biggest brackish water lake of Asia. Possibility to have the boat ride in the lake to see temple & fishing activities in the lake.
later continue drive to Gopalpur on sea O/N at hotel in Gopalpur
Day 05: Gopalpur – Bataguda 200km- 6hrs
Sunday We drive 200km to Eco camp at Pusangia through hill tracks. The cottages are pyramid structures basic , clean and near the tatoo faced kondha villages.In afternoon we visit the tatoo faced kondha villages, ineract with this totemistic group, see the sacrifice pillar overnight in the eco camp.
Day 06: Bataguda - Rayagada 150km- 4hrs
Morning drive to Rayagada enroute Kutia kondha villages, ON at Rayagada hotel
Day07: Rayagada- Bisamkatak- Rayagada 120km-4hrs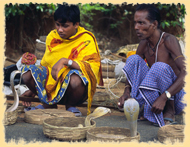 Tuesday The whole day excursion to Dukum weekly market of Desia kondhas, Craft village to see lost wax brass works, Desia kondha villages. Retun to Rayagada in the evening
Day 08: Rayagada- Chhatikona- Jeypore 210km- 6hrs
Wednesday Morning drive to Chhatikona weekly market of Dongariya Kondhas, later drive to Jeypore, enroute Kuvi kondha village. Dongariya kondhas are the micro section of the Kondha group. This day Dongariyas trek down from hills with their forest produce to sell/ barter with non tribals which is nice oppertunity for photographers.
Day 09: Jaypore – onkudelli- JEypore 150km -4hrs
Thursday Excursion to Onukudelli Bonda market where you will see Didayi and Gadabas too. THis most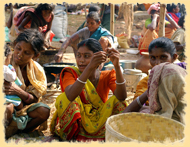 interesting weekly market commence only on Thursday. Bondas are the most primitive tribe of Asia. Afternoon visit Boro gadaba tribal village Return to Jeypore hotel, possibility to see their traditional dance called "Dhemsa" in their village.
Day 10: Jeypore - Visakhapatnam 220km- 6hrs
Friday morning drive towards koraput, visit the Jagannath temple later drive to kunduli , one of the biggest weekly market of mali , Rana & paroja tribals , continue the drive to VIsakhapatnam o/n hotel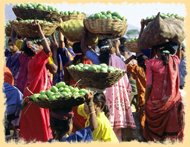 Day 11: Visakhapatnam - Delhi Flight
Morning in time transfer will be provided from Vishakhapatnam hotel to airport to connect flight for Delhi. On arrival no hotel envisaged. Later in time transfer to International airport to connect flight for onward destination to connect flight for onward destination leaving during early hours on Day 12.
End of Programme / Services