Day 01: Arrive Cochin by flight
You will be meet by our representative outside the custom lounge and escorted till you check in at hotel. Check in at 1200 Noon.
Kerala's network of canals, rivers and little lakes, is unique to this green and silver state. Some of them grew when the silt-laden waters of Kerala's rivers deposited their suspended soil in banks, parallel to the coast. A boat through the timeless, palm-shaded backwaters of Cochin reveals magnificent scenery all along the leafy waterways that meander from town to town, and admire what history and religion have left in towns and villages along the way.
Overnight at the hotel.
Day 02: In Cochin
Morning after breakfast city tour of Cochin.
Visit the Mattancherry Dutch Palace - open from 10.00 to 15.00 hrs. (Closed on Fridays and public holidays), which was built by the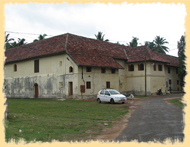 Portuguese in 1555 and renovated by the Dutch in 1663. In the ancient rooms are 17th century murals that relate in vibrant color the story of the epic Ramayana. Visit a Jewish Synagogue - open 10.00 to 12.00 hrs. & 15.00 to 17.00 hrs. (Closed on all Fridays and Saturdays and Jewish holidays) in Jew Town and Fort Cochin Area - Legend dates Jewish trade with Kerala from the times of King Solomon. There are a couple of streets of picture-postcard houses out of another age, in 17th century Dutch and traditional Kerala styles. Visit St. Francis Church - open from 09.00 to 13.00 hrs. And 14.30 to 17.30 hrs. (Closed for visitors on Sundays from 08.00 to 11.00 hrs.) the oldest European Church in India. It has several antiquities including a wealth of records. These include a palm-leaf title deed the local Raja gave the Portuguese in 1503. See the Chinese Fishing Nets, along the tip of Fort Cochin unique to this part of Kerala and living symbols of a centuries-old Chinese influence on this coast.
Evening witness the Kathakali dance at the Auditorium.
Kathakali performances, a dance-drama based on the ancient epics forming among the most colourful of the country's stage tradition. Male actors in makeup that takes as much as two to three hours to apply cavort on the stage in a spellbinding display of morality-theatre. The women perform the more graceful dance form, the Mohiniattam.
Overnight at hotel.
Day 03: Cochin / Munnar by surface (150 Kms / 05 hrs)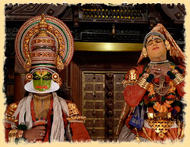 Morning after breakfast leave Cochin for Munnar. On arrival check in at hotel.
Rest of the day at leisure.
Overnight at hotel.
Day 04: In Munnar
Morning after breakfast city tour of Munnar. On arrival check in at hotel.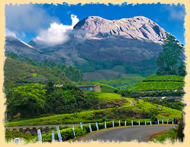 Munnar - breathtakingly beautiful - a heaven of peace and tranquility - the idyllic tourist destination in God's own country. Set at an altitude of 6000 ft from sea level located in Idukki district, Munnar was the favored summer resort of the erstwhile British rulers in the colonial days. Unending expanse of tea plantations - The misty mountains and valleys, the whispering wilds and the refreshing drizzles are a tourists' delight at any time of the year. The mountain slopes are a nicely laden green carpet of evergreen tea plantations interspaced by murmuring jungle streams, winding roads and Pathways.
The misty nights and the sound of silence of this high altitude mountains and valleys blessed with Mother Nature's riches flora and fauna make it a true paradise on earth. The satin smooth grass lands which are the abode of the rare species of wild goats known as Nilgiri Tahrs and herds of wild elephants grazing elegantly across the jungle slopes add to the splendour of this mesmerizing landscape.
Nestling in the very lap of this enchanting terrain is one of our prime properties pristine valleys and mountains- exotic species of flora and fauna in its wild sanctuaries and forests - aroma of spice scented cool air - yes! Munnar has all these and more. It's the place you would love to visit anytime, every time.
Overnight at hotel.
Day 05: Munnar / Madurai by surface (200 Kms / 06 hrs)
Morning after breakfast leave Munnar for Madurai. On arrival check in at hotel.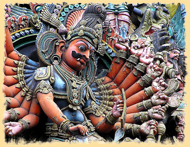 Later visit of Madurai. The `Temple City' was the capital of the Pandya kingdom but it was during the reign of the Nayaks (10th to the 18th century) that the magnificent Meenakshi Temple Visit the Palace of Thirumalai Nayak, the most famous king of the Nayak dynasty. It has a great audience hall, a three-sided pavilion and a courtyard. The evening "Aarti" is a must see for all visitors. The Consort of Goddess Durga - Shiva, is brought to her chamber in procession. This procession goes around the temple, and has various short ceremonies at different shrines, before the final prayer at the entrance of her chamber. The entire procession takes 45 mins.
Overnight at the hotel.
Day 06: Madurai / Periyar by surface (150 Kms / 04 hrs)
Morning after breakfast leave Madurai for Periyar. On arrival check in at hotel.
Periyar Park encompasses 26 sq. km. artificial lake. Take a boat ride on the lake to view wild life and water birds. Herds of elephants and bison come to the lake. Spotted deer and sambhar are also found here.
Overnight at the hotel.
Day 07: Periyar / Kumarakom by surface (135 kms / 04 hrs)
Morning after breakfast leave Periyar for Kumarakom. On arrival check in at hotel.
Kumarakom, a quaint little places on the backwaters of Kerala. It lies on the eastern shore of the Vembanad Lake, which is a bird sanctuary. Waterfowl, cuckoo and wild duck can be seen in abundance here. In winter, large flocks of migratory wild duck from Siberia come in spectacular formation to roost. Kumarakom lies in a timeless world of gentle, unhurried activity.
Day 08: In Kumarakom
Breakfast in the hotel.
Day free for independent activities.
Overnight at the hotel.
Day 09: Kumarakom /Alleppey (45 kms / 01 hrs) House Boat
Morning after breakfast leave Kumarakom for Alleppey to board House Boat.
Kettuvallam or House Boats (Rice Boats) are country boats that were used in the early days for the transport of goods from the isolated interior villages to the towns. A ride on Kettuvallam is a faboulous way to explore the fascinating beauty of the backwaters which give glimpse of Paddy fields., toddy tapping. Also you can indulge in fishing.
A House Boat is about 70 feet in length and has a width of around 13 feet in the middle. The material that go into the making are all local and Eco friendly bamboo poles, coconut fiber ropes, bamboo mats, coir carpets etc. The House Boats have fully furnished single and double rooms with Sundeck, comfortable chairs, Kitchen and toilet with A/C. In addition there is also separate rest room for the crew. Traditional lanterns are used as lights. The crew includes a chef and two oarsmen. The houseboat takes you through the scenic backwaters of Kerala. The Traditional Kerala cuisine will be served on the board.
Overnight on board.
Day 10: Alleppey / Marari by surface (20 Kms / 45 minuets)
Morning after breakfast disembark from House Boat and drive to Marari. On arrival check in at hotel.
Marari derives its names from Mararikulam, a small village in Kerala inhabited by the local fisherman's there. Life in this place hasn't changed much in the last many decades. Men here continue to go for fishing in the morning while the Ladies perform the necessary household cores. This small village is a host to numerous soft sand beaches that promises one a holiday that will relieve him from all worries and tensions amidst this beautiful place with vast expanse of land, water and swaying palm trees.
Water since time immemorial has been proven to have a soothing affect on people. Not only does it bring tranquility to mind and body but also relieves one of all tensions and worries. Such is the magic of water. This magic is further glorified in the beautiful Tours to Mararikulam Beach, Kerala, South India.
Overnight at the hotel.
Day 11: In Marari
Breakfast in the hotel.
Day free for independent activities.
Overnight at the hotel.
Day 12:Marari / Cochin International Airport by surface (90 Kms / 2 ½ Kms)
Breakfast in the hotel. In time transfer to Cochin International Airport to board flight for onward journey leave Cochin at early hours on Day 13th.

End of Programme / Services