Day 01:

Arrive Calcutta by EK flight. Assistance on arrival will be provided and transfer to Hotel. Afternoon city tour of Calcutta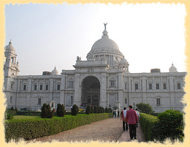 Kolkata represents one of the four metropolitan cities of India. The city makes up the capital of the eastern state of India, West Bengal. The city, formerly designated as Calcutta, sway's rich cultural and demographic resources. The popularity of Kolkata, as one of the premier cities in India, reached its heights in the pre independence era. The city in a short span, about 400 years, has evolved into one of the major commercial areas and a great learning centre in the sub continent. Kolkata city is situated on the west banks of Hooghly River, in the state of West Bengal. The city forms the eastern fringes of the state and lies close to the neighboring country, Bangladesh. The sea, Bay of Bengal, is not far from the place and is about 60 miles away. The approximate distance from other important cities of India are: Delhi - 1461 kms, Mumbai - 1987 kms, Chennai - 1676 kms, Hyderabad - 1576 kms, Jaipur 1472 kms, Agra - 1258 kms.
Half day city tour of Calcutta starts with the visit of Jain Temple, Kali Temple, Kali Temple, Victoria Memorial, Drive past through Howrah Bridge, Dalhousie Square, Fort Williams, Secretariat buildings, and old court house street
Day 2: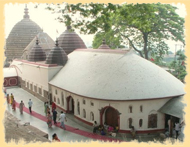 Morning in time transfer to airport to connect flight for Guwahati. Met at Guwahati airport and taken on a short sightseeing tour of the city. Drive up Nilachal Hill to see the holy Kamakhya temple. With its tantric rites and animal sacrifice, the more squeamish may prefer to content them with the exterior. Visit the poignant Commonwealth War Graves cemetery. Finally walk through a local market before embarking on your cruise vessel. We set sail and cruise for about an hour and a half upstream to Kurua on the north bank.
Day 3:
The day is spent cruising upstream, with hills rising on either side. Battling against strong currents, we reach an idyllic stop at Ganesh Pahar, where we can explore a delightfully serene hinterland lying under jungle-covered slopes.
Day 4:
Leaving the hills behind, we enjoy our first taste of the wilderness experience, sand banks like icebergs on either side. We may make a short stop to visit a bankside village, creating a sensation as we do. We moor for the night in a lunar landscape of sand islands, with hopefully the Himalayas in view and providing a contrasting backdrop in the distance.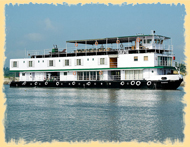 Day 5:
Rising early, we take to our country boat for another cruise up a side stream, this time into the Orang National Park. Here in this rarely visited park we mount elephants and ride through forest and grassland looking for rhino, deer and other wildlife. Returning to Charaidew, we cruise upstream to the little trading settlement of Singri Ghat, its main street running alongside a tea garden.
Day 6:
We cruise on this morning to Tezpur, and drive out to the 6th century Da Parbatia temple ruins with a beautifully carved portal, then explore the town by cycle rickshaw, stopping at Cole Park with medieval stone carvings saved from sites all over the region and perhaps penetrating the bungalow once lived in by Alexander Bruce, pioneer of the tea industry.

Day 7: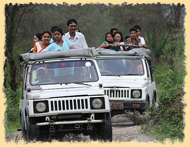 We continue upstream, passing below a seemingly endless new bridge across the vast width of the river bed, to moor at Steemer Ghat (sic), a lovely beach backed by jungle-covered hills. In the afternoon we drive to Kaziranga's Western Range for a jeep safari and to scan the wilderness from an observation tower. Kaziranga is a World Heritage site and with a population of well over 1000 rhinoceros is the best place in the world to see these beasts. There are also good populations of tiger, wild elephant, sambar, swamp deer, hog deer, wild pig and many other species.

Day 8:
Disembark pre-dawn and drive to Kaziranga's Central Range for an early morning elephant ride, the best way to get really close to the rhino and other animals. After breakfast at a lodge, we walk through terraced tea gardens and past a Karbi tribal village, then drive to a Mising tribal village, with their distinctive houses raised on piles. After lunch either take a jeep safari in the little visited Eastern Range before returning to the boat, or if preferred return directly to Steemer Ghat, visit a delightful Assamese village nearby and walk along a path alive with butterflies to a solitary temple on the river bank.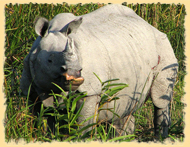 Day 9:
An early start for the 4 hour drive back to Guwahati airport to connect flight for Calcutta, on arrival transfer to hotel. Balance day at leisure.

Day 10:
Later in time transfer to airport to airport to connect flight for onward destination.
EXTENSION TO DARJEELING - SIKKIM
Day 9:
An early start for the 4 hour drive back to Guwahati airport to connect flight for Bagdogra, on arrival transfer to Darjeeling.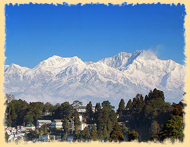 This is one of the most popular destinations in the Himalayas for the family and the adventurer alike. This circuit covers the West Bengal Himalayas i.e Darjeeling, Kalimpong, Mirik and Kurseong. The mighty Khangchendzonga continues to be in the backdrop throughout. Speciality of this region are the world famous tea gardens, views of forested slopes and the snow peaks beyond, the toy train, the Raj era atmosphere of Darjeeling and Kalimpong, the monasteries and wonderful nature trails and high altitude treks.
Day 10:
It is situated at an altitude of 7000ft and is a tourist paradise. One can spend a few days here marvelling at the tea gardens with the backdrop of the Khanchendzonga range or the many lovely sites in and around this town with a lot of character.
Tiger Hill excursion
Early morning tour starting at 3.30am, gives one a once in a life time opportunity to view one of nature's most thrilling sights-the sunrise view over the Himalayan panorama. Later you will visit the Ghoom Yiga Choling monastery and the Batasia Loop and War Memorial.
Back to hotel for Breakfast. Later sight seeing tour of Darjeeling visit the Himalayan Mountaineering Institute – one of the premier schools of mountaineering in the world with a museum; the Padmaja Naidu Himalayan Zoological Park (famous for its snow leopard breeding programme), the Natural History Museum, Darjeeling Peace Pagoda, Dhirdham temple and the Darjeeling-Rangit valley passenger ropeway. On a second circuit for half a day you will cover either a tea garden or a visit to Rock Garden, a wonderful picnic site for the family.
Overnight at hotel.
Day 11 : Darjeeling – Gangtok
Morning after breakfast leave Darjeeling for Gangtok. On arrival check in hotel.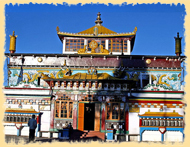 Gangtok: The State capital and the most popular town in Gangtok. It is located at an altitude of 5,800ft (1547 M) and is a modern and vibrant city with great views of the Khangchendzonga range. By staying at Gangtok for 3-4 nights one can visit Tsongu Lake, Rumtek and Rangka Monasteries, the local points as well as undertake the 3-4 day tour to North Sikkim.
Afternoon visit the local area and walk around the city.
Overnight at hotel.
Day 12: Morning proceed for city tour of Gangtok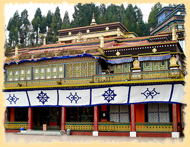 Rumtek Dharma Chakra Centre (Monastery): 23 kms from Gangtok, it is reached after a pleasant drive, the last part of which is through paddy fields. It is the seat of the Kagyu order (one of the four major Tibetan Buddhist sects). Research Institute of Tibetology - a world renowned institute for Buddhist studies with rare books and documents on Buddhism; Purba Chorten-a towering Buddhist monument in the form of a stupa; Government Institute of Cottage Industries (GICI)- Established in 1957 for the purpose of promoting the manufacture and sale of local handicrafts, carpets and furniture; Enchey Monastery - Built in 1901 in the form of a Chinese Pagoda, it is located high above town and follows the Nyingma pa Order of Buddhism; and the Flower Show.
Overnight at hotel.
Day 13: Gangtok – Bagdogra – Calcutta
Morning after breakfast in time transfer to Bagdogra airport to board flight for Calcutta. On arrival transfer to hotel. Overnight.
Day 14:
Later in time transfer to airport to airport to connect flight for onward destination.
END OF OUR SERVICE