Day 01: Arrive Delhi
You will be meet by our representative outside the custom lounge and escorted till you check in at hotel Svelte.
Delhi, the Empress of Indian cities has a fascinating history and a stimulating present. She has often been sacked and left naked and desolate. But she could not be despoiled of the incomparable situation that marks her for the metropolis of a Great Empire. The capital of India, Delhi has been the seat of power of a number of dynasties – athe Rajputs, the Afghans, the Turks and the Mughals who continued their imperial line until the British. Scattered over are surviving ruins, remnants of mighty edifices, tombs of warriors and saints, which in an impressive sense of magnificence are memorials not of a single city but of supplanted nations.
Overnight at hotel.
Day 02: Delhi – Leh.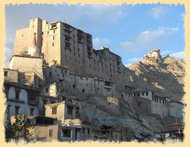 Morning intime transfer to airport to board flight for Leh. On arrival our representative will meet, greet, assist and transfer you to Hotel in Leh. Rest of the day free to acclimatize to the high altitude of Ladakh. Overnight at Hotel in Leh.
Day 03: Leh Sight seeing.
Morning after breakfast half day sight seeing of Sankar Gompa, Shanti Stupa and Leh Palace. Post lunch day free to walk around the bazaar. Overnight at hotel in Leh.
SANKAR GOMPA & VILLAGE : A relatively modern monastery, it is closely associated with the Spituk monastery and served as the residence of the late head priest-Kushak Bakula. A number of gold icons are to be found here.
SHANTI STUPA (Japanese Peace Pagoda) : Shanti Stupa/Japanese peace pagoda is build by a Japanese religious organization headed by Head monk Nakamura with the help from the organization and local people. It is situated at a hill top in Cahngspa village providing a bird eye view of the Leh town and the surrounding mountain peaks. Architecturally it has the Japanese touch with small clean rooms on the side for meditators and the main Japanese shrine at the entrance.
LEH PALACE : The Namgyal Tsemo (victory Peak) was build by King Tashi Namgyal after the reunification of upper and lower Ladakh and victory over Hor and their bodies are placed under an image of Mahakala, the guardian deities to stop further invasion of Hor. The Leh palace known as 'Lechen Palkhar' was built by Singay Namgyal around in the beginning of 17th Century A.D. The nine-storied palace is now deserted, and the ASI (Archeological Survey Of India) has taken up the renovation work.
Day 04: Indus Valley Monastery Tour. (80 Kms round trip)
Morning after breakfast visit Shey, Thiksey and Hemis monastery. Overnight hotel at Leh.
SHEY PALACE AND GOMPA: Situated on a hillock 15 Kms upstream from Leh, it was once the residence of the royal family. According to tradition, it was the seat of power of the pre-Tibetan kinds. A 7.5 mts high copper statue of Buddha, plated with gold and the largest of its kind, is installed here.
THIKSEY GOMPA: 19 Kms from Leh, spectacularly sited, Thiksey is one of the largest and architecturally most impressive Gompas. There are several temples in this Gompas, containing images, stupas and wall paintings of Buddha, which are exquisite.
HEMIS GOMPA: 40 Kms from Leh, it is the wealthiest, best known and biggest Gompa of Ladakh. Its popularity stems from the major
annual festival held here in summer. The festival is in honor of Guru Padma Sambhava's birth anniversary. It also has the largest Thanka in Ladakh which is unfurled once in 12 years (nest in 2004) Hemis was built in 1630 during the reign of Singge Namgyal, an illustrious ruler of Ladakh. It flourished under the Namgyal Dynasty for the royalty favored the Drugpa sect, which is managed the monastery. It is divided into two, the assembly hall on the right and the main temple on the left. The hall (Dukhang) is also used as "green room" by the dancers during the festival. The temple is known as Tshogkhang. The verandahs have a surfeit of frescoes, among them the Buddhist "Wheel Of Life" (Kalachakra) and the lords of the four quarters, besides the prayer wheel.
Day 05: Leh to Uletokpo / Alchi. (70 Kms / 03 – 04 hrs)
Drive from Leh to Uleytokpo. Enroute visit Alchi monastery. Post lunch walk to the beautiful village of Mangyu. Overnight at Uleytokpo camps / Alchi Resorts.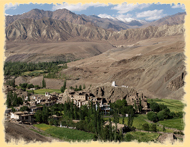 ALCHI GOMPA : 70 Kms from Leh, on the banks of the Indus, is the Alchi Gompa dating a thousand years back. One of its walls features thousands of miniature sized pictures of the Buddha. Three large sized images made of clay and painted brightly are its focal attractions. No longer an active religious center, it is looked after by monks from the Liker monastery. This is the only monastery amongst 34 monasteries, which is not located on a hilltop.
VILLAGE OF MANGYU : The most beautiful village of Ladakh lies off the Leh-Srinagar Highway into the mountains at an altitude of 13860 Ft. This petit village has few houses and nearest accommodation is at Uleytokpo and Alchi. The village is approachable by walk from the Mangyu bridge.
Day 06: Excursion to Lamayuru. (110 Kms round trip)
Morning excursion to Lamayuru monastery. Afternoon visit the Rizong monastery and Chulichan nunnery. Overnight Uleytokpo camps / Alchi Resorts
LAMAYURU GOMPA: The oldest holy site in Ladakh, it was a bon shrine prior to the advent of Buddhism. Also known as Yung Drung (Swastika) it is sited on a high promontory overlooking the village and valley. For sheer spectacle value no other Gompa can match Lamayuru.
RIDZONG GOMPA: Rizong is the most isolated monastery of all the monastery of Ladakh. There is no entry fee in this monastery, you can offer whatever you can. Rizong Gompa is known as the paradise for Meditation. Guru Padma Sambhava is believed to meditated here for years. One can still find the small caves where Lamas used to meditate for years cutting themselves from the rest of the world except for an one feet square outlet window from where they accept the one time meal of the day.
CHULICHAN: Chulichan, the nunnery is around one and half Kms. Below the Rizong monastery; around 20 Nuns resides at Chulichan. They provide food and cloths to the monks and perform morning and evening prayers.
Day 07: Uletokpo to Leh.
Morning drive back to Leh, enroute visit Likir and Spituk monastery. Evening Stok Palace and museum. Overnight hotel at Leh.
LIKIR GOMPA: Founded in the 11th century and rededicated to a different monastic order in the 15th century, its earlier Gompa was destroyed in a fire. The present Gompa dated back to the 18th century. Skilled craftsmen producing excellent Thankas, earthen pots and carved wooden folding stools, live here in the village. Majestically situated, Likir commands a spectacular view. A magnificent giant Jupiter tree, one of the few survivors of its species, stands in the courtyard.
SPITUK GOMPA: 8 Kms from Leh, it stands prominently on the top of hillock commanding a panoramic view of the Indus Valley for miles. Many icons of Buddha and fine Thankas are to be found in this 15th century Gompa. The Gompa also houses a collection of ancient masks, antique arms, and an awe-inspiring image of Mahakaal. The face of the Kali image is kept covered and is revealed only at the annual function at January every year.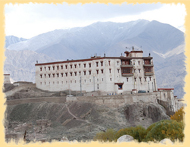 STOK PALACE & MUSEUM: The palace of the banished royal family, Stok has a museum which displays fabulous period costumes and jewelry of the royalty along with exquisite Thankas representing the life style of Shakya Muni. Interesting historical objects like coins, armor, weapons, precious jades and porcelain too can be seen here.
Day 08: Monastery tour of Thaktok and Chemrey. (120 Kms round trip)
After breakfast leave for Thaktok monastery visit the monastery and drive back to Leh enroute visiting Chemrey monastery. You can carry packed lunch or can comeback to hotel for late hot lunch. Please specify it to the hotel in advance. Dinner and overnight in hotel at Leh.
TAKTHOK GOMPA: The Takthok (the monastery with rock ceiling); 50km. east of Leh, this is the only monastery belonging to the Nyingmapa school of order. The monastery came into existence when Guru Padma Sambhava visited this place and blessed it in the 8th century. The Gonpa was merely a meditation cave of Padma Sambhava, with footprints and many other signs, until the reign of King Tsewang Namgail. When Mahasiddha Kunga Phunstog introduced monastic community. It was given the name of Takthok Padmalinggon. The Takthok Festival is held in the month of July or August.
CHEMREY GOMPA: 45 Kms from Leh, situated in the picturesque valley leading to Changla, the Gompa was constructed as a funeral act of merit on Singge Namgyal's death in 1645. A large collection of scriptures with title pages in sterling silver and the text in gold letters is kept here. Close by a cave monastery reputed to have been the abode of Padma Sambhava during one of his periods of meditation.
Day 09: Leh - Nubra Via Khardungla Pass. (140 Kms / 5 - 6 hrs)
Early morning proceed to Nubra Valley via the World Highest Motorable road (5602 Mts) Khardungla pass. Arrive Nubra by noon and check in at Camps. Evening at leisure. Overnight at the camp.
KHARDUNGLA PASS: The road journey to Nubra valley leads through Khardung La pass (The highest Motorable road in the world) 18,390 ft. around 39 Kms. Away from Leh. There are two checkpoints on the both sides of the pass. Khardong is the first village of Nubra valley at higher altitude than Deskit and other villages.

Day 10 : Nubra Sight seeing. (100 kms round trip)
Morning after breakfast proceed for a visit to the White Sand Dunes at Hunder. You can enjoy the camel ride (On Own). Visit Hunder and Diskit monasteries. Evening visit Samstaling Monestry. Overnight at Camp.
DESKIT VILLAGE: Deskit is the main village of headquarter of Nubra valley, which has a small market consisting of a row of shops and about 500 years old Gompa on the hilltop. Spectacular view of the valley can be seen form the monastery.
DESKIT GOMPA: Deskit Gompa was founded by Lama Sherab Zangpo of Stod in about 1420 AD during the reign of King Dragspa. About 100 monks are residing in the Gompa, which is a branch of Thikse Monastery. The monastic festival called Gustor takes place on 20th and 21st days of the 12th month of Tibetan calendar.
HUNDAR VILLAGE: Hundar is a beautiful village to stay with lot of trees and you will really enjoy your stay at Hundar. It has a small monastery and ruined fort above the village. The walk or Camel Safari (Double Hump bacterian camels) from Hundar to Deskit, through sand dunes for two hours is wonderful.
SAMSTANLING GOMPA: Samstanling Monastery was founded by Lama Tsultrim Nima and Monastic community was introduced as Rezong Gompa. About 50-60 monks are residing at this 132 years old monastery. The Gompa has some strict rules and regulations.
-Women are not allowed in the monastery after sunset and before sunrise.
-No smoking is allowed (not even bringing cigarettes packets) in the monastery.
-Alcohol and non-veg. Food are strictly prohibited.
-Do not enter in sleeveless shirts and Pants.

Day 11: Nubra - Leh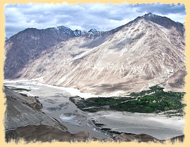 Morning after Breakfast proceed for Leh, once again driving via Khardungla pass the World Highest Motorable road. Evening explore Leh bazaar for souvenir, visit Leh Jokhang or Leh Mosque by foot. Overnight at the hotel.
JOKHANG: the Ladakh Buddhist Association in 1957 built the small Gonpa opposite to SBI and known as Jokhang in the main bazaar, which is open throughout the day for visitors. The Gonpa contains statue of Joyo Rinpoche (crowned Buddha).
LEH MOSQUE: The Jama Masjid of Leh was built in 1666-67 AD under an agreement between Mughal Emperor Aurangzeb and Ladakhi ruler Deldan Namgyal. Initialy, the architecture of the mosque bore Tibetan, Central Asian and Ladakhi style. In recent years it has been reconstructed and given a new look with minarets and domes.
Day 12: Leh – Sarchu (250 Kms / 8 – 9 Hrs drive)
Full day drive to Sarchu via Upshi and we have to cross second highest motorable pass in world (Tanglangla Pass 5350 Mtrs.)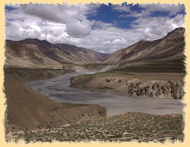 Enjoy the nature beauty of the mountains continue drive through Moreplans there are chance to see tiny colonies of Marmots, Yaks & Herbs. At Pang we stop for lunch continue drive to Lachungla pass 5065 Mtrs rugged in the middle of the mountains. Arrive Sarchu tonight our camp will be at 4200 Mtrs. and it will be the coldest night during the whole tour. Overnight in Tents.
Day 13: Sarchu - Keylong (126 Kms / 5 – 6 hrs drive)
Sarchu is the border line between Jammu n Kashmir and Himachal Pradesh after 20 Kms drive we enter into Himachal Pradesh and we reach Baralachala pass 4883 Mtrs. here on the top there is a lake known as Surajtal and we will meet first village at Darcha after Rumtze. One may visit to Dalai Lama monastery which has been recently built during the Kalachakra Programme. Overnight at hotel in Keylong.
Day 14: Keylong – Manali (130 Kms / 5 – 6 hrs drive)
Continue drive to Manali finally we reach Khoksar where we stop for passport checking and lunch. Continue ascending towards Rohtang pass 3978 Mtrs. and we dip into Manali region. Another 51 Kms drive will take us to Manali. Overnight at Hotel in Manali.
Day 15: Manali – Sight seeing.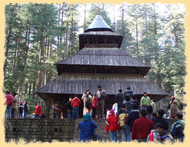 After breakfast leave for half day sight seing of the city visiting Hadimba Devi Temple, Tibetan Monastery, jagatsukh and Old Manali. Evening free at leisure. Dinner and overnight at Hotel.

Hadimba Devi Temple - built around a natural cave, the temple has a finely wrought four- tiered pagoda roof, dating back to 1553. It enshrines the footprints of Goddess Hadimba. Hadimba was the wife of Bhima, one of the five great Pandava brothers of the Mahabharata, and later became the patron goddess of the Kullu royal family.

Gadhan Thekchokling Gompa - built by Tibetan refugees in the late 1960's, this is a colourful and pleasant monastery

Jagatsukh - was the erstwhile capital of Kullu. Originally known as Nast, it remained the capital for almost ten generations. Here are old temples dedicated to Lord Shiva and Gayatri Devi.

Old Manali - is the hamlet out of, which grew the large tourist town that Manali is today. It is also the site of Manu temple dedicated to Sage Manu.
Day 16: Manali – Chandigarh (280 Kms / 07 -08 hrs)
Early morning drive to Chandigarh. Arrive Chandigarh and drop to Railway Station for evening Shatabdi Express train to Delhi. On arrival transfer to hotel.
Overnight at hotel. Or departure transfer to airport to connect flight for onward destination leaving during early hours on Day 17th
EXTENSION TO VISIT TAJ MAHAL

Day 17: Delhi – Agra (260 Kms / 04 – 05 hrs.)
Morning after breakfast visit combined city tour of Delhi. Drive past at Red Fort, the 300-year-old walled city built by Emperor Shah Jehan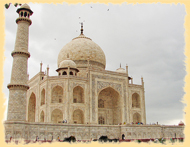 in 1648 as his capital and named after him. The magnificent Red Fort built of red sandstone dates from the very peak of the Mughal power, Opposite the fort are the black and white onion dome and minarets of the Jama Masjid,The Qutub Minar, 72 meters high and the ruins of Quwat-ul-Eslam (Light of Islam) Mosque.
Later Continue drive to Agra. On arrival check in at hotel.
Overnight at Hotel
Day 18: Agra - Delhi (260 Kms / 04 – 05 hrs.)
Morning after breakfast sightseeing tour of Taj Mahal,
With its incredible lacy white grandeur the Taj Mahal is perhaps the most perfect architectural monument in the world. To the poet Tagore it was a `tear on the face of eternity'. In memory of his wife the great Mughal emperor Shah Jehan constructed this most extravagant and incomparable monument built for love. Amazingly graceful from any angle, it is the close up detail, which is really astounding.
AGRA FORT: This visit will be optional and if clients will be interested an amount of US$ 7 PP will have to pay at the counter of monument)
Agra Fort is situated on the banks for the river Yamuna, another monumental mission accomplished by the great Mughal visionary Emperor Akbar. His son Jehangir and grandson Shah Jehan added to this imposing structure during their rule. The Palaces, mosques and audience halls contained within its massive wall of red sandstone are perfect examples of blending Islamic and Hindu traditions.
Later leave Agra for Delhi
On arrival no hotel envisaged.
Later in time transfer to the airport to connect flight for onward destination, leaving during early hours on day 19th .
END OF SERVICES…..