Day 01: Arrive Delhi
Arrive Delhi by OS/LH/AF or SR flight in the morning . You will be met by our representative outside the customs enclosure and escorted till your check in at hotel.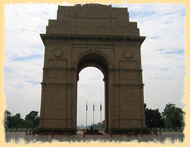 Delhi, the Empress of Indian cities has a fascinating history and a stimulating present. She has often been sacked and left naked and desolate. But she could not be despoiled of the incomparable situation that marks her for the metropolis of a Great Empire. The capital of India, Delhi has been the seat of power of a number of dynasties – the Rajputs, the Afghans, the Turks and the Mughals who continued their imperial line until the British. Scattered over are surviving ruins, remnants of mighty edifices, tombs of warriors and saints, which in an impressive sense of magnificence are memorials not of a single city but of supplanted nations.
Overnight at hotel.
Day 02: Delhi – Agra by surface 210 kms (5 hours)
Morning visit Old and New Delhi.
Old Delhi, drive past Red Fort, the 300-year-old walled city built by Emperor Shah Jehan in 1648 as his capital and named after him. The magnificent Red Fort built of red sandstone dates from the very peak of the Mughal power, Opposite the fort are the black and white onion dome and minarets of the Jama Masjid, the most elegant mosque in India. Also Drive past Kotla Firoze Shah, ruins of an old fort of the 14th century with the 13 metre high Ashoka Pillar of 3rd BC. And Ghat, where Mahatma Gandhi was cremated in 1948. Drive through the old city subject to traffic restrictions.
New Delhi the new capital designed by Sir Edward Lutyens. Drive past the Presidential Palace, the Rashtrapati Bhavan and the secretariat buildings - the centre of all government activity and down the main avenue, the impressive Rajpath to the World War I memorial arch, the India Gate, the High Court Building and the Old Fort. Visit the Qutub Minar, 72 metres high and the ruins of Quwat-ul-Eslam (Light of Islam) Mosque. See Delhi's most curious antique, the uncorroded Iron Pillar, which dates back to the 4th century AD. Visit the Birla (Laxmi Narayan) Temple, with its many idols.
Later leave Delhi for Agra.
On arrival transfer and check in at hotel.
Overnight at Hotel.
Day 03: Agra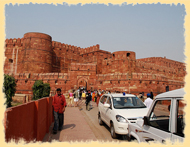 Morning visit the Taj Mahal with English speaking guide. (Transfer with Golf card to Taj Mahal is not possible)With its incredible lacy white grandeur the Taj Mahal is perhaps the most perfect architectural monument in the world. To the poet Tagore it was a `tear on the face of eternity'. In memory of his wife the great Mughal emperor Shah Jehan constructed this most extravagant and incomparable monument built for love. Amazingly graceful from any angle, it is the close up detail, which is really astounding.
Later visit Agra Fort
Agra Fort is situated on the banks of the river Yamuna, another monumental mission accomplished by the great Mughal visionary Emperor Akbar. His son Jehangir and grandson Shah Jehan added to this imposing structure during their rule. The palaces, mosques and audience halls contained within its massive wall of red sandstone are perfect examples of blending Islamic and Hindu traditions.
Afternoon at leisure.

Overnight at hotel.
Day 04: Agra – Karauli (310 kms – 8 hours)
Morning check out and drive to Karauli enroute visiting Fatehpur Sikri.
35kms before Agra is Fatehpur Sikri, the abandoned red sandstone city built in the 16th century by the Mughal Emperor Akbar, one of India's greatest rulers. Remarkably broadminded for his time, this Muslim king married a Rajput princess in order to win over his Hindu subjects. The architecture at Fatehpur Sikri is a combination of Hindu and Muslim styles, expressing Akbar's vision of synthesizing the cultures.
Continue drive to Karauli.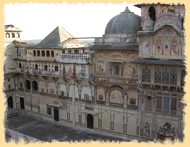 On arrival check in at hotel. Later proceed for city tour of Karauli along with a camel ride will be provided from Bhanwar Vilas Palace till Karauli Fort.
Karauli is a sylvan delight packed in a rural ambience. It was founded in 1348AD by one Raja Arjun Pal. In those days Karauli used to be the capital of a small state of the same name. Legend has it that the ruling family were descendants of Lord Krishna, one of the most loved god of Hindu mythology. As such they occupy the topmost rank among the Yaduvanshi Rajputs and their family history is rich with tales of valour and glory.
Today Karauli, famous for its pale red sandstone, is also known as a holy place. There are some old monuments you could see here, apart from exploring the rambling countryside and the game sanctuary. There are excellent opportunities for jeep safaris and boating too. Do make it a point to visit the local bazaar where you get good handicraft items, especially the colourful bangles of KarauliOn arrival check in at hotel.
Overnight at hotel.
Day 05: Karauli– Jaipur 190 Kms (05 hours)
Morning after breakfast leave Karauli for Jaipur. On arrival check in at hotel
Jaipur is where the enduring charisma of the past blends with the throbbing vitality of today. Where a colorful cast of characters – from printers and potters to artists and antique dealers - present a fascinating picture of a city that is alive to both tradition and change.
Raja Jai Singh, the founder of Jaipur was no ordinary man. He was a scholar and an astronomer, keenly sensitive to beauty, a formidable general, who tempered power with wisdom. In building Jaipur, Jai Singh's vision took him beyond architectural beauty for in the sprawling, barren plains beneath Amber, the former capital, he gave India its first planned city, which has remained unique in two and a half centuries. Jai Singh made Jaipur a haven and it became a center of commerce and religion.
Today, Jaipur has spread far beyond the pink crenulated walls that once defined its boundaries. It presents a fascinating picture of a city where growth, evolution and change are sustained by tradition.

Upon arrival, check in to hotel. Later visit the colourful marke area of Jaipur where a Rickshaw ride will be provided.
Overnight at hotel.
Day 06: Jaipur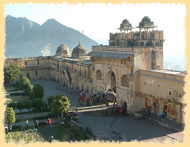 The day begins with a visit to the Amber fort, the former seat of the Rajput rulers of Jaipur. Ascending the fortress seated on elephants, wander around the beautiful palaces and visit the Shiladevi temple (which continues to be the private temple of the Royal family) with its exquisite marble carvings and silver door.
Afternoon sightseeing tour of Jaipur with English speaking guide for 6 hours.
Visit the open-air royal observatory "Jantar Mantar", with gigantic, astronomical instruments, the City Palace and Museum stopping by the "Hawa Mahal" or the Palace of Winds.
Overnight at hotel.
Day 07: Jaipur - Delhi
Morning at leisure.

Later drive back to Delhi.
On arrival no hotels envisaged. In time transfer to airport to connect flight for onward destination leaving during early hours on Day 08.
END OF SERVICES…..